Backbone Campaign's summer focus for Solutionary Rail has been Outreach – to policymakers, newspapers and the general public. We are grateful to Winona LaDuke who wrote an op ed, the New Iron Horse, about her support for Solutionary Rail.  Will you write a Letter to the Editor about Solutionary Rail?  Check out the toolkit for talking points and tips on getting your LTE published.
The next Organizing Call for Solutionary Rail will be Wednesday, Sept 4th, at noon (pacific)/3pm (eastern).  Register for the call to learn what's next and how you can get involved.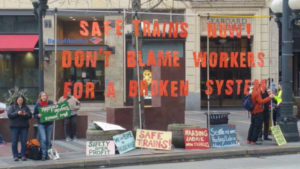 The Grassroots Ambassador Toolkit is ready for YOU to use to help spread the word about this innovative plan that will decarbonize transportation and energy – and do it in less than 10 years, if we can build the political will.
Thanks to our SR Volunteer Team, led by Mary Paterson, we launched "RailBites" – newsbites written for busy elected officials to inform them about electrified freight rail.  Check out RailBite #1 on Electrification, RailBite #2 on Safe Rail Working ConditionsRailBite #3 on Higher Speed Rail vs High Speed and Ultra High Speed.  SIGN UP to utilize this easy tool with your policymaker, so they can be better informed about transportation options and the real solution that is Solutionary Rail.