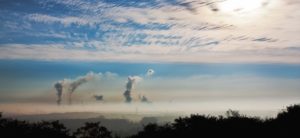 Much has been said and written about the political aspects of the Green New Deal. The substance of the Green New Deal has not gotten as much attention. House Resolution 109, introduced by Congresswoman Alexandria Ocasio-Cortez, lists the goals of the Green New Deal. These goals are captured into two broad categories, climate and economic. Under the economic tent are goals of the creation of millions of good, high paying jobs; providing unprecedented levels of prosperity
Great places to begin these discussions on the goals and politics of the Green New Deal are our congregations and community groups. An excellent video to facilitate the discussion is "The Climate Crisis and the Green New Deal" by the Sanders Institute. It can be found here.
The video is 1:15 long. The first 45 minutes is the panel discussion followed by 30 minutes of questions from the audience. The panel discussion alone should foster great conversation within your congregation or community group. When I shared the video with my congregation's social justice teams immediately everyone was enthused. The racial justice team wanted to be a part of the presentation. The environmental team wanted to be part of the presentation. The economic justice team wanted to be part of the presentation. Under one tent a broad brush of issues are addressed.
The panel consists of four experts and the moderator and expert Bill McKibben of 350°.org. Each panelist has a few minutes to share his, or her, perspective on the Green New Deal. Panelist author Naomi Klein points out the Green New Deal has embedded justice in its approach toward dealing with the climate crisis. She notes that under one umbrella the issues addressed include the climate crisis, racial issues, Medicare for All, economic issues, and overall justice. Matt Nelson looks at the Green New Deal though the Latin-x community. He points out the climate crisis is about migration, racial justice, and economic justice. He says it is an intersectional issue. Abdul El-Sayed explains that to understand the effects of the carbon emitting problem one has to look at the root. The root, Abdul says, is in urban areas like Detroit. It is in this root where the Green New Deal can effectuate justice. Stephanie Kelton, an economist, explains that the US can afford a Green New Deal. She pointed out that the original New Deal was paid for at a time when the country was in an economic crisis. She makes it clear the country can afford the Green New Deal.
The Green New Deal is a work in progress. The House resolution expresses goals. The means to attain these goals need to be worked out over the next two years. It is through robust discussions at the local level that the means can be laid out. I encourage folks to show this video at their congregation and hopefully spark an ongoing dialogue.
(from a longer article submitted by Jim Black. See the full article here.)