Backbone Campaign is honored to co-host two screenings of the highly anticipated Dammed to Extinction – in Seattle this Friday (June 7) and on Vashon Island next Tuesday (June 11).
We are also co-sponsoring two more Human Orca Murals next weekend, bringing our total of Human Murals up to 13 since Tahlequah carried her deceased baby across the Salish Sea, so we would witness what is happening to the Southern Resident pod and the dire conditions of their habitat. If you'll be in Gig Harbor or Bainbridge Island this Saturday, show up in black and stand up for the orca! Info is at the links below.
Dammed to Extinction Film Screening, June 7th, Seattle
Dammed to Extinction Film Screening, June 11th, Vashon Island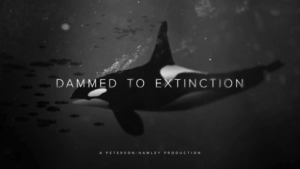 About the Film: Directed by eastern Washington native Michael Peterson, "Dammed to Extinction" chronicles the plight of the endangered Southern Resident orcas who depend on Chinook salmon for food, including Columbia Basin salmon runs especially in winter/spring.
The film features interviews with scientists and experts across the Northwest, from the Salish Sea to the mountain rivers of Idaho, who make the case for removing four aging dams on the lower Snake River to bring back many thousands of chinook salmon to thousands of miles of pristine rivers in the Snake River basin, providing much-needed food for orcas. Currently, all runs of Snake River salmon and steelhead are listed as threatened and endangered. This year's adult returns are predicted to be the lowest in decades.
Film maker Michael Peterson grew up in Tri-Cities. After a career in Hollywood working on big-budget films including Independence Day, Armageddon, and Contact, he returned to the Northwest, buying property on the reservoir behind Condit Dam on the White Salmon River. Initially opposed to the removal of Condit dam, his views changed after witnessing the rebirth of the river and return of salmon and steelhead. Likewise, his views of restoring the lower Snake River and its salmon changed after learning more about the science and economics of its four dams and the urgent plight of the Southern Resident orcas.
Watch the trailer here.
Be part of something BIG!
Human Orca Mural, Saturday, June 8th, Gig Harbor/Tacoma
Human Orca Mural, Saturday, June 8th, Bainbridge Island