Backbone now has lights and gear in 33 cities! Join our next Solidarity Brigade Network Call to hear about actions in your area, Thursday, June 20th, 5pm.
We recently trained up the Kitsap Solidarity Brigade and they quickly organized a three point action – light projection on one end of the county, an LED banner on another end, and a freeway banner at another entrance, all during the evening commute.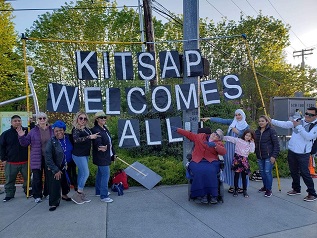 Our Builder's Guild meets each Wednesday in our Vashon Island Warehouse to build props, assemble LED light panels and banners, and prep imagery to be shared across the US.  Currently, the Team is working on a kaleidoscope of monarch butterflies to show solidarity with immigrants, and a life size inflatable of Orca Mother Tahlequah and her calf. If you're in the area, stop by any Wednesday, 11-6.  Shoot us an email for directions – info@backbonecampaign.org.  No skills necessary!  We have snacks available.  The third Wednesday of the month we hold a Volunteer Appreciation Dinner so we'd be honored if you join us Wed, June 19th at 5:30.
Backbone props are used just about every day in some part of the country. Whether it's to bring attention to the urgent need to shut down the child prison in Homestead Florida or light projection on the Venezuelan Embassy in DC to protect it from a State Dept coup, or activists in Houston working to keep their communities safe from toxic explosions, Backbone is happy to deploy our light projectionists or lend gear to protect what you love. Click HERE to see some of our Spring actions. Borrow an image or LED banner by reserving one HERE.