Organize a Local Event to Support the June 4 Juliana v. US Hearing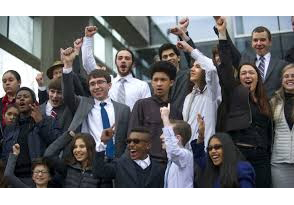 The constitutional youth climate lawsuit, Juliana v. United States, will be heard before the Ninth Circuit Court of Appeals in Portland, Oregon on June 4th, 2019. Our Children's Trust is calling people to organize events locally and encourages you to mobilize on the day of the hearing to host watch parties of the live stream of the arguments and to hold marches in support.
For more information, check out their FaceBook event HERE.  For those who can be in Portland for the hearing, more than a thousand supporters will gather at Director Park downtown at 10:30 a.m., just a few blocks from the courthouse (which only seats about 40 people) to watch the live-streamed oral argument and afterwards hear from youth plaintiffs, their attorneys, and other community and climate movement members.
If you are interested in helping with the organizing efforts, please sign up to become a Volunteer Community Organizer.