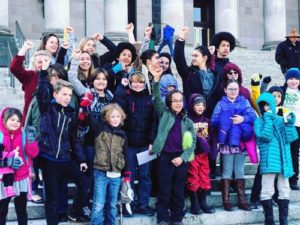 When: Thursday, April 11, 10am-3pm
Where: United Churches of Olympia, Social Hall 110 11th Ave SE, Olympia, WA 
The day will start with trainings and workshops, followed by a rally, and ending at the legislative building where we will demand that our legislators vote for climate action. Come and enjoy great food, conversation, and advocacy as we come together to fight for climate action. When you RSVP, please make sure to list that you are part of the Carbon Washington Group and email our Advocacy Coordinator, Katsi@carbonwa.org to confirm.
Can't make it to the event but still want to take action? Support us by sharing the Facebook event and submitting a letter to your elected official telling them who you are and why you support bold, equitable action on climate.
Interested in speaking at the rally? Let us know on the RSVP form! Because this event aims to center the voices of individuals on the frontlines of climate change, we especially want young speakers from Indigenous communities, communities of color, low-income families, or who identify as part of the LGBTQ community.