"Unitarian Universalism's commitment to trans lives is all too often aspirational rather than true today. According to a recent survey, only 28% of trans UUs feel that their congregation is fully inclusive of them as trans people. We need this to change, because trans lives are at stake."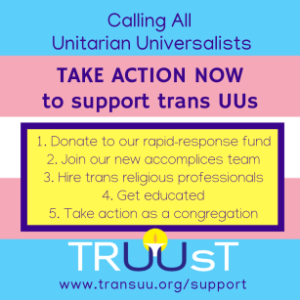 In this short article, TRUUst provides concrete ways you can make a difference in your congregation and in the broader world.
We invite you to read TRUUst's call to action and follow your justice heart as you are moved.
The need is great. The time is now.